Year Planner / Chiropractic Diary (2016)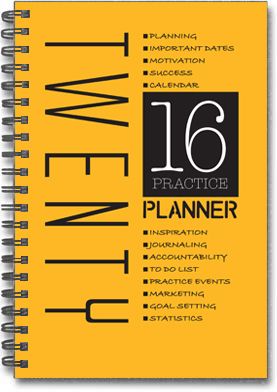 Year Planner / Chiropractic Diary (2016)
Your Weekly Companion for Practice Success
More than just a mere "success journal," the 2016 Practice Planner is a private, desktop chiropractic coach that will coax you and your team to greater practice success. Watch as your practice transforms and your passion renews. Check out a typical two-page spread.
Use your Practice Planner to stay on track, record your progress, solve challenges, stay focused and make 2016 your best year ever. It's a great gift idea for you or your favorite chiropractor.
Something You'll Consult Every Day Throughout 2016
The major features that will help you work on your practice—not merely in it:
Weekly Inspiration

 - Each week Bill shares a meaningful quote from Plato, Disney, C.S. Lewis and dozens of others, and applies its principles to practice, patients and professional success. Meditate on these powerful statements and apply them to your life and practice.

Personal Appointment Calendar

 - Keep track of meetings, special events, seminars and important dates.

Weekly To Do List

 - Get more done and notice greater productivity as you track the completion of important projects.

Weekly To Be List

 - Each week set a to "be" goal. Such as being more attentive, focused, tolerant or disciplined. (Includes over 130 ideas!)

Socratic Patient Question-of-the-Week

 - Stimulate better adjusting room conversations by asking patients a different thought-provoking question each week.

Record Your Statistics

 - Measure your qualitative statistics at the beginning of each week and uncover sabotaging headspace issues before they affect the performance of your practice.

Journaling Insights

 - As issues and blockages emerge, journal about them. See new solutions and opportunities.

National Holidays

 - Plan your practice hours, holiday schedules, vacations and seasonal practice events.

Practice Promotion Ideas

 - Organize practice promotions, such as National Stress Awareness Month (April) and over 100 others throughout the year.

Chiropractic History

 - Important dates in chiropractic history will remind you of the privilege it is to practice chiropractic.
Reviews