Patch or Fix Brochure (50 Brochures)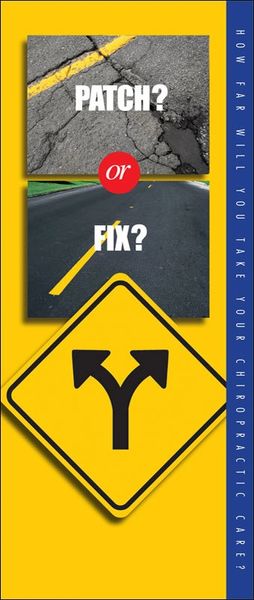 Patch or Fix Brochure (50 Brochures)
Patch or Fix? Chiropractic Brochures
1 x Pack of 50 Brochures
"Makes the case for continued care."
Your patient is making great progress. Will she stay for the post-symptomatic care she needs to avoid a needless relapse? Or will she discontinue care once she feels better or her insurance coverage ends?
Improve the odds, by having your staff present this brochure upon the completion of the patient's sixth visit. "The doctor would like you to consider some of the options explained in this brochure and discuss them with you on your next visit."
Or, perhaps you'd rather drop it in the mail with a brief cover letter.
Patients learn why they can't judge their health by how they feel. They're reminded that few insurance policies cover true health care. The consequences of discontinuing care are presented simply and concisely. It doesn't pull any punches and says what you would say—if you only had the time. It coordinates with our popular wall poster.
Improve retention today and increase re-activation's tomorrow!
CO-ORDINATES PERFECTLY WITH OUR POSTER: CLICK HERE TO VIEW
Reviews
Featured Products