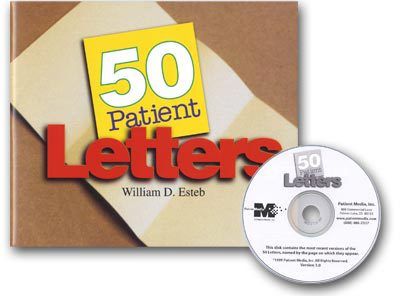 50 Patient Letters
50 Chiropractic Patient Letter/Emails Templates
Chiropractic patient communications that get you paid, stimulate referrals and motivate patients.
Here are 50 must-have chiropractic letter templates that cover just about every situation in which a letter from you could motivate, comfort, assure or persuade a patient. These are concise, one-page patient letters written with laser-beam focus.
Written by master chiropractic communicator William Esteb, you and your team will use these letters again and again to welcome new patients, improve collections, increase reactivations, raise your fees, change your hours and enjoy better compliance.
All 50 patient letters are included on a CD as simple text files so they don't have to be retyped. Simply copy the letter files to a folder on your computer, edit and format with your favorite word processor so they look good on your letterhead. (Directions included.) Print. Sign. Send. Motivate. Easy!
Essential Chiropractic Patient Letter Templates:
Great to Meet You Letter     
Congratulations Starting Care Letter
I'm a New Doctor in the Area Letter          
Didn't Return to See X-rays Letter
Didn't Show Up After Screening Letter     
After First Adjustment Letter
Why We Don't Belong to Your HMO Letter           
Please Refer Others Letter
Letter to Patient's Spouse   
Not Getting Results Letter
Not Keeping Appointments Letter
Sorry About the Wait Letter
Insurance Co Denied Coverage Letter       
Progress Exam Letter
Patient Appreciation Invite Letter
Dismissal Letter
Reactivation Letter   
Annual Checkup Letter
Inactive Apology Letter       
Thanks for the Referral Letter
New Year's Resolution 1 Letter      
New Year's Resolution 2 Letter      
We're Changing Our Hours Letter
Collections Letter
Plus 26 other helpful chiropractic patient letters and emails!
Reviews
Featured Products