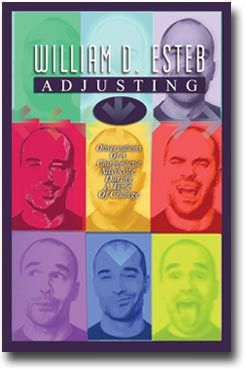 Adjusting Book
The Chiropractic Book For Chiropractors: Adjusting
Observations of a Chiropractic Advocate During a Time of Change
Adjusting is the 10th chiropractic book in the patient's-point-of-view series. And Bill's wit and wisdom just gets sharper and sharper. There's problably something to make just about every chiropractor squirm.
In this book for chiropractors, Bill takes pot shots at all the chiropractic sacred cows. From annual care plans and chiropractic colleges to chiropractic consultants and so-called "principled" chiropractors. But this chiropractic advocate always offers up practical, down-to-earth solutions and more resourceful ways of practicing during this time of change.
As Dr. Markson observes in the book's Introduction, "If you tend to enjoy a succinct and tidy book that mercifully spares you the fluff and filler needed by most authors to reach their page quota, you'll find "Adjusting" totally refreshing."
If you've found Bill's seminars, blog posts, recordings and previous chiropractic books thought-provoking, you'll find this one even more affirming! Not a book reader? Bill reads aloud his favorite nine chapters from this and his other nine books on CD on Bill's Best.
The I'm-just-Looking Patient (page 15)
Four Subluxations (page 39)
Do You Care Too Much? (page 67)
How to Domesticate a Chiropractor (page 95)
Missed Appointments: The Long Answer (page 113)
Where Did All the Chiropractors Go? (page 175)
Is This Payback Time? (page 201)
"Just read your book and I wanted to let you know that it rocked me. I've read all of your books but for some reason this one hit me at the right time because my head is spinning. I just finished it and am going to re-read it immediately (with a highlighter!). Forget $500 a month for coaches. All chiropractors need to do is keep reading this book over and over until it sinks in." ~Steve Prentice, DC
"This is a must read for all student DC's and veteran chiro's. It's remarkably clear. No powder puff stuff. Just simple truth. It's desperately needed for myself and others to get us back to the basics of what our profession was intended for. There is such great stuff in this book. I don't look forward to finishing it. What else will I read that is as stimulating?" ~Dr. Irma Palmer
"I want to thank you for writing Adjusting. I purchased both the book and CD. It is a masterpiece and I must say, after listening to it about four or five times, it has penetrated to some new layers. I have experienced quite a bit of clarity and have had some new visions in my quest to help others. Thank you for being a true friend to Chiropractic and Chiropractors!" ~Dr. Bryan Siegel
"Just finished reading "Adjusting." Truly an amazing observation. I have read all your books and this one is the best. You 'pull no punches,' telling it like it is. I enjoyed every page, every chapter. I always do reading at lunch time to fill my head with 'good stuff.' Now it's time to re-read the book and highlight it." ~Dr. Jerry Majer
An excellent gift for the chiropractor you love!
Reviews
Featured Products