Bill's Best (10 CD's / Tapes)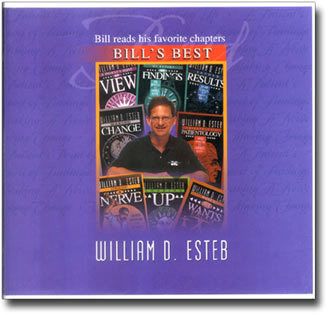 Bill's Best (10 CD's / Tapes)
Not a reader? No problemo!
The Best of Bill's 10 Books Read Aloud by Bill!
The patient's point of view comes alive as chiropractic patient, chiropractic advocate and author Bill Esteb reads aloud his nine favorite chapters from his 10 patient-s-point-of-view books.
25 Years of Experience
Contained on 10 audio CDs, (or TAPES) over a quarter of a century of experience as a patient, observer and communicator are condensed for easy (and entertaining) absorption. Pick up the subtle nuances of what he's learned conducting in-office consultations and patient focus groups. Enlarge your understanding of today's patients and what it takes to move and inspire them.
Listen Again and Again
You and your staff will listen to these recordings again and again. (Great for kicking off staff meetings!) Packed with practical information you can put to use immediately in your practice. Bill's Best is just that: the best of the best.
The Pareto Principle
Each of his printed books contains almost 50 chapters. Bill has selected the essential 20% of each book and included it in Bill's Best. No fluff. No filler. Just meat and potatoes from:
A Patient's Point of View
My Report of Findings
Beyond Results
Making Change
Chiropractic Patientology
Striking a Nerve
Looking Up
What a Patient Wants
Connecting the Dots
Adjusting
Bill's Timing and Sense of Humor
As Bill reads his favorite chapters aloud, listen, as each one comes alive with his inflection, timing and the dry sense of humor that entertains chiropractic convention and seminar audiences around the world.
For Commuters and iPod Users
Listen to each chapter in about 10-12 minutes. Listen in your car. Rip to your iPod to accompany you while you exercise. Use these 11 hours to keep your head in the game and improve your new patient attractability.
Listen. Laugh. Learn. Guaranteed.
Reviews
Featured Products