Examination Inserts (New 1-Page Design for 2018)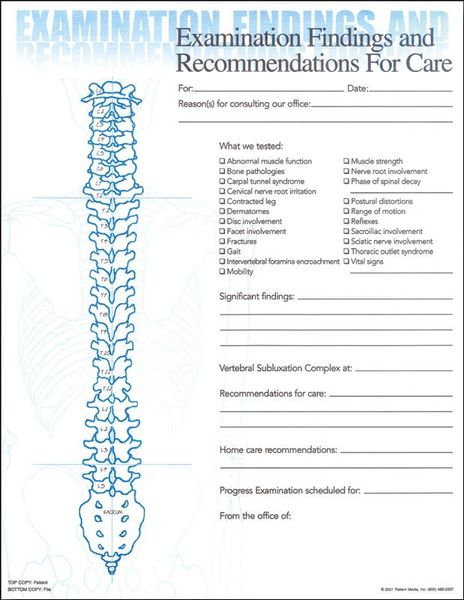 Examination Inserts (New 1-Page Design for 2018)
Present Your Examination Findings Simply So Patients Understand. And Can Tell Others!
1 x A4 Pad of 50 Sheets
This simple one-page reporting document guides you through the essential elements of an effective patient report of findings. 

Before you meet with the patient, use a red roller ball type pen to enter their name, date and reason(s) for consulting your practice. Check the exams you conducted and the significant findings you'll want to review. List where your exam found patterns of subluxation.
On the spinal illustration, draw any postural distortions, scoliosis, high shoulder or uneven hips your exam uncovered. Fill in your recommendations, home care instructions and the scheduled date of his or her first progress exam. Rubber stamp or sticker your practice information at the bottom.
When completed, your exam form might look like this image to the right.
With just a few minutes of prep, you're ready to deliver a succinct and thorough report of findings that stays on message. Think of this as your "Executive Summary" of your report
When you're done, insert it along with your other report documents, in their VIP Report Folder. Save time and give your report of findings greater simplicity and impact.
Reviews
Featured Products