Magnetized Three-Phase Lumbar Spine Degeneration Model Set - NO LONGER AVAILABLE - PLEASE CONTACT TO REGISTER INTEREST IN THIS PRODUCT, SO WE CAN LET YOU KNOW IF WE FIND A SUITABLE ALTERNATIVE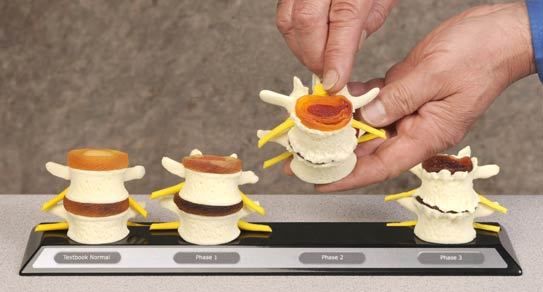 Magnetized Three-Phase Lumbar Spine Degeneration Model Set - NO LONGER AVAILABLE - PLEASE CONTACT TO REGISTER INTEREST IN THIS PRODUCT, SO WE CAN LET YOU KNOW IF WE FIND A SUITABLE ALTERNATIVE
Lumbar Spine Models Show Phases of Spine Degeneration in a Four Model Set
Lumbar Spine Models Bring Your Report of Findings to Life
Lumbar spine X-rays jump to life with these lumbar vertebrae and disc degeneration anatomical model sets.
The four life-size lumbar spine vertebrae demonstrate normal and the three phases of subluxation degeneration. Introduce practice members and spinal decompression candidates to the Textbook Normal lumbar spine vertebrae showing normal disc height and nerve root openings. Point out the progressive effects of neglect, showing disc bulging, herniation, thinning and desiccation. They can see (and touch!) the arthritic bone spurs and the advancing foraminal occlusion.
Arthritic Spine Models for Phase Placement
The realistic size, color and weight of each lumbar spine model, along with the anatomical detail and precision, will make this the cornerstone of your radiographic reports. Learn how to phase place each patient so they "own" your report of findings and embrace your recommendations for care.
Remove each anatomically accurate 3D lumbar spine model set from the magnetized base for the patient to hold and inspect. No other subluxation degeneration spine model so accurately demonstrates the damage to discs, nerve roots and the motor units themselves. When you're through, each spine model snaps smartly back into place on the contrasting, high-gloss black base with the hidden magnets. In a word: dramatic.
Beware of Cheaper Vertebrae Spine Models
Shop around and you may find cheaper lumbar degeneration models. Like most things, less expensive knock offs have to cut corners. Be mindful of two important compromises:
1. Bone and soft tissue accuracy. Cheaper lumbar spine models come from China. Inspect the craftsmanship and fine details. The lighter weight plastic used for the bone may not have the right "feel." Watch for jagged seams from misfitting casting molds and the inferior material used for the disc and nerve tissue. Will it endure years of daily use?
2. Spindle mounts. The 1950s walnut base and mounting pins look cheap and require increased dexterity when replacing them. Besides the inconvenience (at a time when you want to be focused on your report), this mounting method requires violating the vertebrae by drilling a hole into the bottom of each one!
Reviews