Million Dollar Questions CD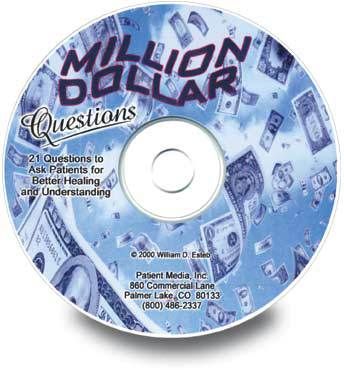 Million Dollar Questions CD
The Million Dollar Questions Seminar Helps You Apply the Socratic Method
"I've become a better listener."
You already ask the right clinically-oriented questions to uncover a patient's problem. Here are 21 questions that reveal patient perceptions, understanding, motivation and the factors that control compliance, retention and referrals. Questions like...
"What do you hope to do better or enjoy more when you regain your health?" "Would you prefer shorter visits or longer visits?" "What was greatest first visit concern?" "Why are you here today?" Plus 17 others.
In this concise one hour "mini-seminar" you'll learn powerful new ways to unlock a patient's mind and help them make better decisions about their health.
Find out what you must do before patients will refer
Discover what motivates patients (it's rarely better health!)
Improve what is said and done on the patient's first visit
Motivate the patient's spouse to support your care plan
Uncover how well patients understand chiropractic
Establish appropriate visit length expectations
Learn what to ask, when to ask it, how to ask it and what the answers mean. The only way to truly "educate" patients is by asking questions. It's easy. And it works.
Reviews
Featured Products