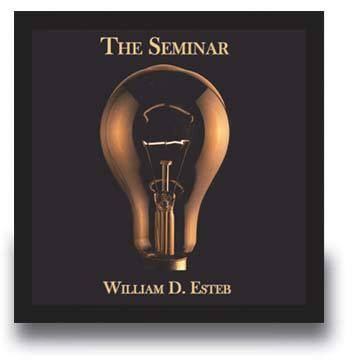 The Seminar (8 CD's)
The Chiropractic Seminar That Puts Other Chiropractic Seminars to Shame
One of Those Chiropractic Seminars That's a Game Changer!
The Seminar is one of those chiropractic seminars that you and your staff can attend again and again without the travel, hotel or time out of the practice. If you resonate with the philosophy and practical, down-to-earth approach Bill brings to Monday Morning Motivation each week and the blog entries on our home page, you'll love The Seminar.
Captured at one of his rare, 16-hour chiropractic seminars in late 2006, this powerful program has been edited to an intense, fluff-free 8-hour chiropractic seminar. During this motivational program there will be something sure to make you squirm, maybe even blush! All for the purpose of taking your practice to the next level.
The first half establishes the key principles essential for seeing your practice through the eyes of patients.
The second half is more procedure-based, with specific things to say and do to grow your practice.
There are over 25 detailed subjects covered in The Seminar 8-Audio CD set:
Vocabulary—The importance of bringing precision to your language. Defining the terms Bill uses throughout this and other chiropractic seminars. This alone is worth the purchse price!
Chiropractic Simplified—Chiropractic described in 100 words without using the terms adjustment or subluxation. Use it in your explanations and see more people "get" what you're about.
What I Believe—Here are the key distinctions Bill has acquired during the last 25 years working with chiropractors and and conducting focus groups.
Four Types of Relationships—Every relationship has the possibility of going through four increasingly deeper and influential stages. How influential are you? How deep do you go?
Burnout—Take your temperature with this 10-point quiz to find out if you're cool, charred or crispy. And the action steps to extricate yourself.
Who Are You Showing Up As?—What persona are you projecting when you show up in your practice? The unhealthy pal? The high-confront enforcer? The emotionally draining fixer? Perhaps the unwanted coach?
Be Do Have—As much as Bill covers specific action steps that you can do, the real key to practice growth is being fully you.
Clarify Your Purpose—Your purpose is not to adjust as many people as possible. That may help advance your purpose, but it's not your purpose. The Seminar will help resolve this common mistake made by chiropractors.
Patient Beliefs—They enter your practice with a handful of beliefs that control their behaviors. Discover that you're actually in the belief-changing business. (Listen to an excerpt below.)
Creating a Safe Place to Fail—Patients rarely "get" chiropractic on their first exposure to it. Learn the importance of having a "goodbye" procedure that avoids all traces of guilt or shame so you can increase reactivations—the key to having a practice rather than a promotion. (This is an important topic that you'll never hear at other chiropractic seminars!)
The Road to Recovery—One of the most powerful wall graphics comes alive. Use it to preframe the "decision time" when patients are inclined to drop out of care.
How We Learn—Discover how to embrace the increasing noise created by drug advertising and to more persuasively communicate what makes a natural approach more attractive.
Office Environment—Get a fresh new look at how others see your practice. Advance your purpose using the floors, walls and even the ceilings of your office.
A Systems Approach—People don't fail, system do. See how to methodically create a procedure manual. Work on your business, not merely in it.
Staff Motivation—The 10 things your support staff will never tell you that dramatically affect commitment, motivation and turnover. More staff training resources.
Staff Meetings—How to hold effective team meetings. Sample agenda and procedures to enhance intra-office communications and shared purpose.
Education System Overview—A quick review of our Ultimate Kit that contains the key handouts, report documents, DVDs and wall charts.
First Visit Procedures—Patient-centric first visit procedures that improve rapport and lay the foundation for more influential long-term relationships.
Five Uses of Chiropractic—Introduce the five ways that your services can be utilized to advance the health of your community.
Financial Education—Your newest obligation. Increasingly important as the third party reimbursement system disintegrates and taking assignment becomes more work than it's worth.
Second Visit Procedures—Even if merely later the same day, why a two-visit procedure is so vital for creating long-term relationships.
Report of Findings—The difference between data and information. The "Four Stories" and how to communicate them in a meaningful way.
Business Cards—One of the most important, yet overlooked marketing tools in your arsenal. How to use them to "plant your flag" and attract your "tribe."
How to Use Brochures—If you stock your brochure rack and wait for reception room visitors to help themselves, you're not getting the new patients you deserve.
Nurturing Dormant Relationships—They still think of you as their chiropractor. Do you still think of them as members of your practice? Learn how to increase reactivations.
And much, much more! As you listen to The Seminar, follow along by watching the actual PowerPoint program (included) that Bill used during his live seminar.
This is one of those chiropractic seminars that you and your team will listen to again and again whenever you need a fresh perspective or some high-octane motivation
Reviews
Featured Products