VIP Starter Set (Replacement Options Available)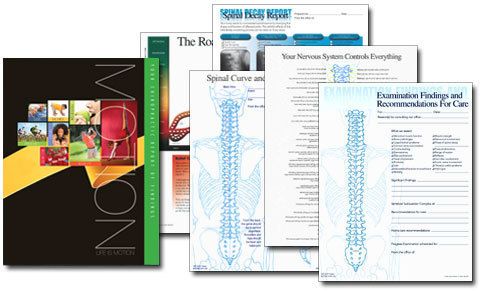 VIP Starter Set (Replacement Options Available)
Money-Saving VIP Report of Findings Starter Set

50 VIP Folders, 1 x A4 Pad of Exam Inserts, 1 x A4 Pad of Posture Inserts (Left of Right Facing), 1 x A4 Pad Nerve Inserts, 1 x A4 Pad of Spinal Decay Inserts (Left or Right Facing), 1 x A4 Pad of Road to Recovery Inserts - Option to change inserts for other inserts may incur a small additional charge depending on any price difference for individual products.

Other than your consultation, explaining your findings and making specific recommendations for care is your most important patient communication. It's here that patients acquire a new meaning for their symptoms and come to trust your plan of action.
And don't forget that these days you're often giving your report without their spouse or partner in the room with you! It's essential that you equip patients to recreate your explanation—improving follow-through and referrals.
The VIP Report of Findings System does this and more.
It brings order and consistency to your reports, provides a record of what was discussed and professionally packages your findings in a way that communicates trust and confidence. Scripting ideas here.
Cherry pick the items that support your report style and clinical intentions. Or save money by getting the documents you need for effective reports, bundled together in our money-saving VIP Starter Set. (Don't take X-rays? We'll substitute a different Insert. Just indicate replacement in the box above.)
Examination Findings Insert—This two-part carbonless form is the "skeleton" of your report. Simply check a few boxes and enter a few key phrases. Use the posterior illustration to record the location of subluxations or areas of concern. Enter your recommendations for care and the date of their first progress exam. Keep the bottom copy for your files and send the top one home in the VIP Report Folder. Get more detail here. Pkg. of 50 two-part forms.


Nervous System Insert—This posterior view of the spine includes the major neurological connections at each segmental level. Unlike lateral views, you can more easily explain the importance of symmetry and balance while showing the link between bones and nerves. Circle areas of subluxation. Top copy for patients. Keep the bottom one for your files. Do you use surface EMG? Print their scans on the backside. Get more details here. Pkg. of 50 two-part forms.


Road to Recovery Insert—This is the take-home version of our popular wall chart. Use this full color insert during your report to explain the three possible recovery tracks (quick results, worse before getting better and steady improvement) and the consequences of discontinuing care as soon as they feel better. Foreshadow their "patch or fix" decision and lay the groundwork for better retention. More details here. Pad of 50


VIP Report Folder—Clinically neutral, use this folder to deliver your report documents with confidence. Place the patient's copies of the inserts behind the inside flap and use the die-cuts to weave in relevant brochures and business cards. Key terms are defined on the back panel. A professional package that confidently says, "Trust me."More details here. Pkg. of 50

If your reports have degenerated into a rote, memorized spiel, it's time to reinvent and simplify this crucial patient communication!
Reviews
Featured Products