What Every Chiropractic Assistant Should Know Booklet (WECASK)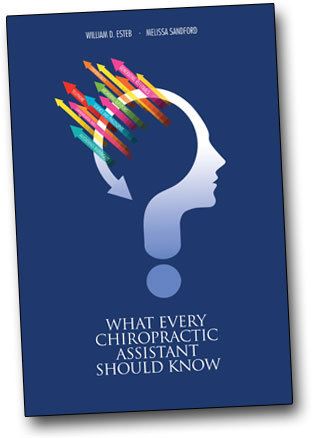 What Every Chiropractic Assistant Should Know Booklet (WECASK)
What Every Chiropractic Assistant Should Know (WECASK) Staff Training Manual
Turns CA's into a mind reader!
Bring Your Newest Staff Members Up to Speed Quickly!
They are your eyes and ears. They often spend more time with patients than you do. They make the critical first and last impression. They set the tone of your practice and monitor the office environment. They can help grow your practice… or quietly tap on the brakes.
If you have a new staff member, or are in the process of hiring one, help him or her quickly become a contributing member of your  team with the information in this helpful 48-page, full-color handbook. Send it home with each of the most promising candidates. Use our Chiropractic For Assistants CD for training after you hire the most qualified candidate.
See representative pages above.
Section 1: Chiropractic Simplified
Section 2: Your Role in Chiropractic
Regular Team Meetings
Telephone
Meeting and Greeting
Practice Environment
Collecting Money
The Appointment Book
Scheduling of Appointments
Missed Appointments
Patient Recalls
Referral Opportunities
Answering Questions (Answers Brochure)
Discouraged Patients
Your Own Health
Attending Seminars
New Patients
Patient Education
Caring Too Much
Being a Chiropractic Advocate
Teamwork
Section 3: Additional Resources
Section 4: Essential Vocabulary
Section 5: My Chiropractor's Preferences
Enjoy greater confidence that your new hire has your back. See better teamwork. Notice increased productivity by implementing this essential introductory booklet.
Reviews
Featured Products